Last year, Gina Stefani and executive chef, Mariela Bolaños, opened their West Loop establishment to a bit of hoopla. A year has passed and MAD Social is standing strong, providing diners with a fun experience that is mad delicious. They even use the restaurant's name to make the menu items extra playful (i.e. MAD Soup). You might think the food is angry, but don't worry, it's only angry if you haven't taken a bite yet and traveled to taste town. Here are our top 5 things to order at MAD Social:
HAVARTI MAC & CHEESE — I've always loved mac & cheese and the chef at MAD Social has put his own spin on the classic American dish. Giant shells covered in gooey golden cheese are served in a hot skillet with crispy brussels sprouts and crunchy bread crumbs sprinkled on top. It's one of the top dishes there, maybe for the brussels sprouts alone, which brings me to the second on our list...
CRISPY BRUSSELS SPROUTS SALAD — Probably a favorite of mine, though if you read some other reviews they might not feel the same way. Yes, brussels sprouts should be close to their fad cycle. However MAD Social does a nice refresh with the dish that makes it worthwhile in ordering. The yuzu soy vinaigrette glazed nicely with the mixture of red cabbage, carrot, scallions, and sesame seeds provides a bountiful taste for your mouth and eyes. >*We ate the empanadas too quickly to take a picture and it seems everyone else felt the same* *
BBQ PORK EMPANADAS - I'm not usually a BBQ pork in empanadas fan, but wow was this delicious! Empanadas are spreading fast over Chicago with Cafe Tola finally getting the lines it deserves and 5411 Empanadas opening up shops like Heritage Coffee. The pastry is both crispy and flaky but does not breakdown, very important in my opinion.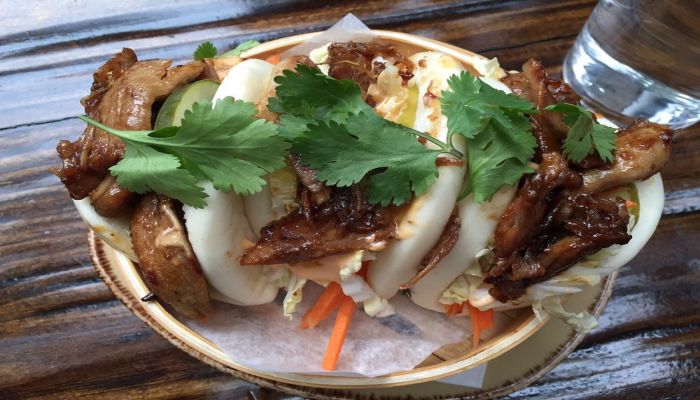 DUCK CONFIT BAO BUNS — Now I firmly believe that no one in Chicago will ever beat Sun Wah's 3-1 Duck meal that has duck bao, but the MAD Social does a great job in making you reconsider taking the drive uptown. The buns are a nice combination of carrots, napa cabbage, tangy cucumbers, & sriracha aioli. Makes me wonder if they took a little notice from Momofuku's pork buns (Those are hot 🔥)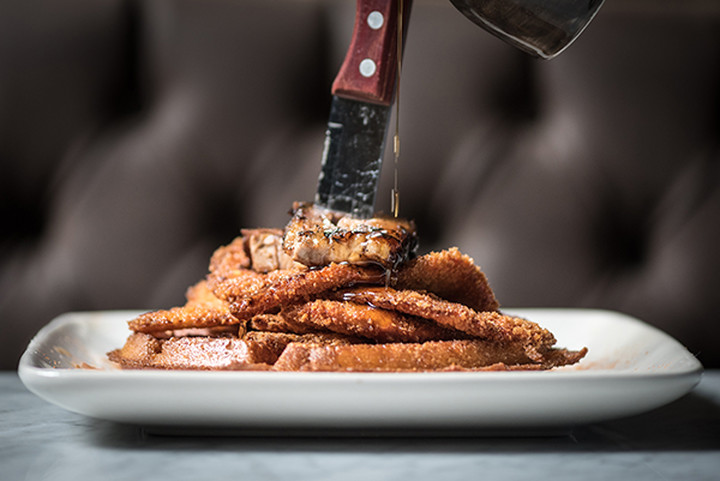 MAD CHICKEN & WAFFLES — They could focus their whole menu around this dish alone! If you even like fried chicken or waffles, you need to have these waffles. If you're from LA and thinking "Not better than Roscoe's" I dare you to try it.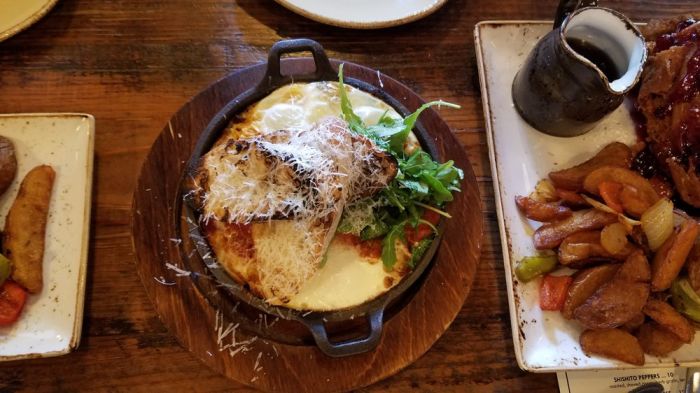 Your Brunch Menu Item: MAD SHAKSHOUKA — Don't know what Shakshouka is? You should get out or order in more. Middle Eastern fad that is starting to sweep the nation, the oven baked dish with eggs, sun dried tomato sauce, roasted potatoes, spinach, peppers, mushrooms, and more will knock your socks off and maybe put you into the couch for a nice nap. As stated above, MAD Social's brunch is making a name for itself in the West Loop. So get your crew together and go to town on some chicken and waffles while sipping on some suds. MAD Social is a place that not only can you enjoy but all of your friends will too.