Just the sound of that title shoots me back to being a little kid, visiting my mom's family in Brooklyn (we are talking broken-down Brooklyn) and having my first lox and bagel after attending synagogue. HOLY MOLY was I in heaven and I was a picky eater, let me tell you! My grandma still talks about my love for only hot dogs, chocolate, and coffee yogurt till the age of 6 🙄. Should have reminded her about bagels. Time to get back on subject. Being in Chicago, I feel that the city has some of the best meat you can get. Especially when we are talking about steak and pork. Yet, when it comes to our lovely friend, salmon, it is a bit of a throw in the dark. Piece owner, Bill Jacobs, did just open BroBagel, so we will have to try that. Plus, you will most likely pay an arm and a leg for "artisan" lox that is put on just a half of a bagel, what's up
Being in Chicago, I feel that the city has some of the best meat you can get. Especially when we are talking about steak and pork. Yet, when it comes to our lovely friend, salmon, it is a bit of a throw in the dark. Piece Brewery owner, Bill Jacobs, did just open BroBagel, so we will have to try that. Plus, you will most likely pay an arm and a leg for "artisan" lox that is put on just a half of a bagel, what's up Snaggletooth, and you feel like you just got robbed. I don't care if you only have artisanal fish! My grandfather would ridicule me from the grave if he knew I spent around $14 to have half a bagel toasted with cream cheese that is topped with cured trout and shaved parsnips. >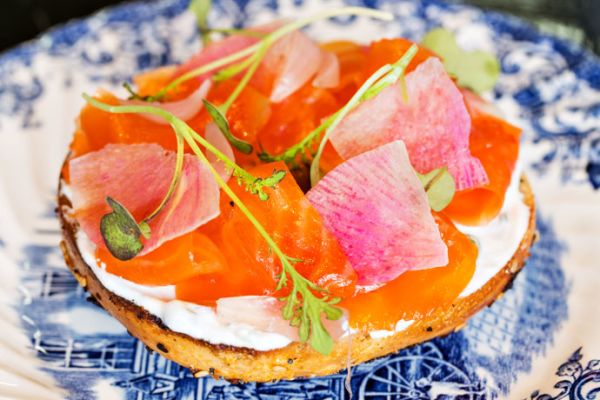 That costs $14. Beautiful though.
Yes, the burbs have some solid places, Kaufman's, to go and get your fix that will maybe come close to my favorite, Russ & Daughers, but I am talking about in the actual city center here people. If you don't know about Russ & Daughter's yet, buy a ticket to New York and go try it. I am being serious! 
I will absolutely pay what is needed for the quality from R&D
If you clicked on this post to see the best places to go, I apologize, but this time, I am using this as an outcry to the restaurant owners and chefs in the city. Get your act together! We have some of the most talented chefs and minds here. Maybe it isn't the cash cow or the trend right now (Poke!) that is taking the city by storm, but you will always have consistent customers. In the meantime you can always try NYC Bagel Deli in Lincoln Park, they're certainly adequate for now.